Do you have kids aged 6 - 11? Are you interested in giving them an opportunity to explore robotics? Do you own (or soon will own, because this opportunity is too fantastic to miss) a
Dash & Dot Robot
? Do you like the Minions (a very cool prize to meet them for real)? If you have answered
yes
(to even one of these questions) then you just have to keep reading to find out about the new competition from Wonder Workshop. The competition was launch 19 October so get signup to the Wonder League and have some fun with robotics.
Robotics Competition Details
The competition is open to everyone between the
ages of 6 - 11 yrs
. BUT only USA residents can qualify for prizes. You need to form a team of up to 6 members and need at least one adult helper either a parent / teacher. Adults can help with setup, explaining the rules and compiling the competition submission - BUT no coding - that's to be done by the awesome team of kids. (Adult helpers
sign up here
) Finally you need a Dash & Dot Robot.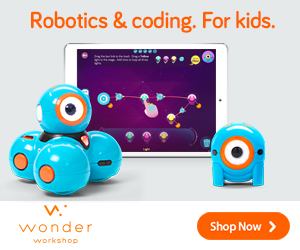 Here are some important dates you won't want to miss for the competition:
Competition opens: 19 October
Assemble your team and signup: 1 November
Mission 7 announcement: 16 November
Competition Submission: 1 December
Competition Finals: 7 December
Winners Announced: 10 December
set up a grid for Dash & Dot to move
. It is 9ft x 9ft (270cm x 270cm) divided into rows and columns using painters tape. On the mission video Make Wonder used foam mats to set out the grid. Make Wonder also suggests making the grid out of butcher or graph paper which can be rolled up in-between missions. We live in a fairly small house, so I think we'll go for this option. You can also use a smaller grid where the mission allows.
The competition requires teams to complete 6 Missions using this grid, including a
7th mission
which will be announced on the 16th of November. The
6 missions teach kids how to programme the robots
to move around on the grid. Each mission the robot has to perform a different manoeuvres. Oh, you'll also need 18 disposable cups to complete all the missions. You have artistic licence to make your robots look awesome, so get those creative juices flowing. Full details of the missions are available on the
Make Wonder Competition Website
.
For more details and prizes go to
Make Wonder Competition
We're based in the UK, so no prizes for us, but I think it is a fantastic opportunity to introduce my kids to robotics and as our Dash & Dot robots are arriving shortly, we'll be sending them on missions to outer space.
Sign up to our blog
to follow our progress and also find out the details of Mission #7.
Happy Programming...
Need a Robot?
Buy one from Wonder Workshop
Use the voucher COMPETITION for a $20 discount.